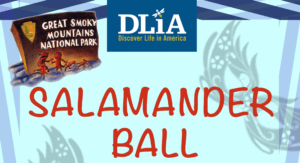 Mark your calendar for DLIA's annual fundraising Salamander Ball!
Join us in celebrating the beauty and biodiversity of the Great Smoky Mountains National Park! The Knoxville Zoo will host us again this year. We encourage one and all to dress up as their favorite park critter and dance the night away.
As always, the Ball will include live music, food, drink, a costume parade, silent auction, zoo admission, and plenty of fun!
Children 12 and under are free!