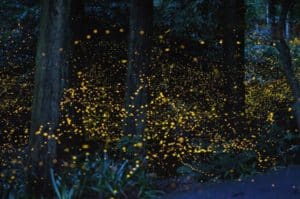 Why don't fireflies in the average backyard synchronize? What makes the fireflies in the park so special? These questions and more will be answered at a DLIA fundraising event that also features the firefly. With exclusive access to the property at Norton Creek and a firefly expert on site, attendees will learn the answer to their questions while enjoying the amazing "flashing" display firsthand.
This year's firefly events will take place on June 1, 2, and 3, from 7-11 PM each night. Please note that this is a distinct event from the firefly event with NPS at Elkmont, and that we have nothing to do with the lottery system operated for that event. Tickets are $150, and food (heavy hors d'oeuvres) and drinks (beer and wine) will be provided. Fireflies at Norton Creek welcomes all attendees 10 years or older. All attendees require a purchased ticket.
Please contact us at (865) 430-4757 or wyatt@dlia.org with any questions. Tickets may be purchased here. We're looking forward to seeing you there!